Troubadour: Can't say I remember needing the word before
***
By Hudson Old
---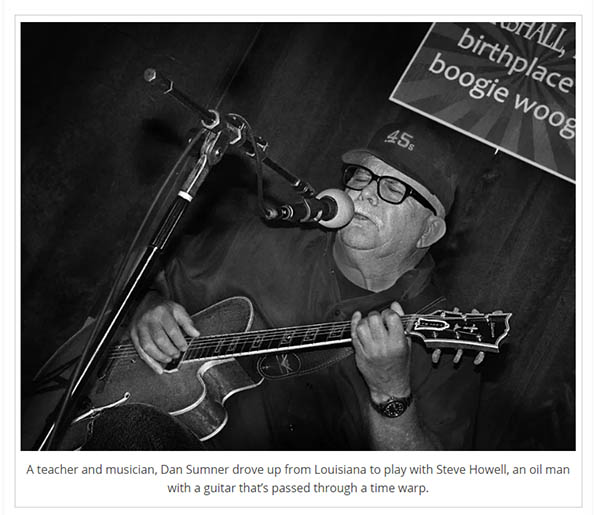 Expert Tuning in to Professor Steve Howell's lyrical-musical lectures ever time I crank the pickup stereo's expanded my brain. I'm prob'ly smarter than y'all now.
I'm smug knowing "When It's Sleepy Time Down South" was once Louie Armstrong's tribute to Dixieland Jazz pouring down the Mississippi into the port of New Orleans. Hearing Professor Howell and the Mighty Men turn its melody into a riverboat paddle wheeler on a moonlit night taking me where I've never been makes me a philosopher.
Is it wrong for a troubadour (sic – I looked it up) to love his guitar? A Texas board room oil baron, Professor Howell would as soon be playing a honky tonk. I know, I was there. As an emerging music critic, I drove 50 miles to Marshall where he was booked for a Wednesday-night show.
A classical guitarist, Dan Summer took the distance trophy for driving up from Louisiana to accompany Professor Howell at OS2. OS2 is either a place with linen table clothes attached to an old railroad town tavern, or a tavern attached to a restaurant with a selection of Vegan, Organic and Non-GMO entres on the menu alongside marinated crab claws and filet mignon.
Either way, carry your wallet.
I got there in time to see Professor Howell and wife Leigh picking up the check for Mr. Summer's meal.
"I take good care of good musicians," Mr. Howell said. Also, I checked the spelling on "troubadour" before I started tossing out French, probably a residual effect of going in a bar with no pool tables. A beatnik could play bongos in there.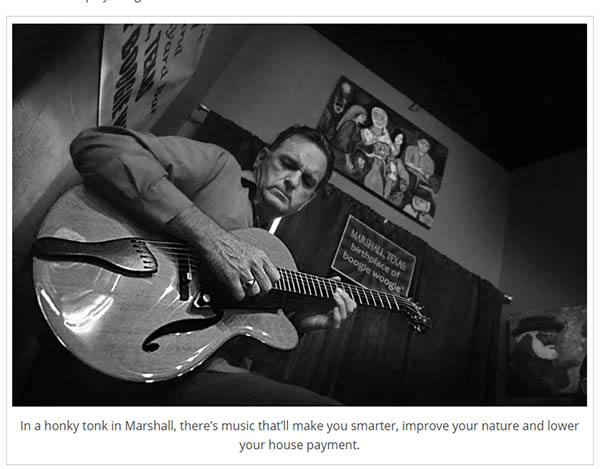 Dan Summer morphed into an on-stage virtuoso straight out of central casting. If I'd had a movie camera on him, I'd have been a motion picture maker to boot. Playing into a waking dream, on request he blended into the Professor's rendition of "Bye Bye Blackbird."
Y'all know that one? It's an old standard from 1926. If riding the river on the Armstrong piece takes you where you've never been, "Bye Bye Blackbird's" about finding your way home to love from anywhere. Easy lyrics, road-rhythm melodic, I got it down my heart.
Played live, it had the same effect on the fellow singing to his wife as they danced as it does when I perform live with the pickup stereo. The way Professor Howell arranged it for pickup-cab studio sessions, the first time it comes around on the guitar I sound best running 60 with the windows down. We shower down on it when the professor comes in singing background for me the second time around.
We're so good we do it one more time as an encore.
"Pack up all my cares and woes, here I go, singin' low, Bye, Bye Blackbird," we croon.
The way I got to be an expert, if you can find one of the professor's CD's it comes with the course curriculum. He prints up nut-shelled accounts of the music he sings, tales of where it's from, stories from the fires of ancient camps.
Checking Amazon, I've just found a couple of used copies of "Out of the Past" for under $5. Recognizing what he's got, some scalper with a mint-in-original packaging copy is asking $50.
Checking with management, I've found that most of the rest of seven-album library of Steve Howell and the Mighty Men curriculum is available on Amazon. They're distributed by Portland-based Burnside Distribution Corporation. Individual cuts of "Bye, Bye Blackbird" and "When It's Sleepy Time Down South" can be picked up at the online iTunes store.
"stevehowell.ws" gets you to the website.
Subscription-serious music lovers should tune in Sirius XM Radio's "Bluesville Channel" where the new release "Good As I've Been To You" climbed to number 11 the second week of June.
I'll be criticizin' that one and have more to say about the on-beat but off-the-beaten trail Marshall home of different music in an upcoming piece.
---
RELATED ARTICLES:
---

hudson180630